Oscar Carrasco, Executive Chef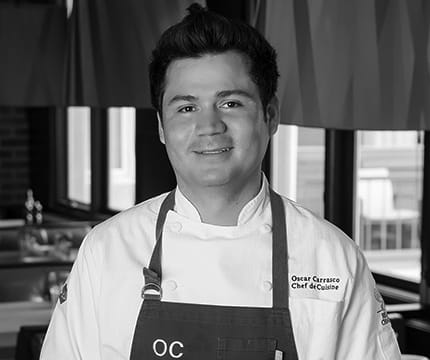 Little Nell Executive Chef Oscar Carrasco started his career in the kitchen learning at his mother's side. Originally from southern Honduras, Oscar moved to join his family in Aspen in 2005. After graduating from the Colorado Mountain College Culinary Institute, he continued his culinary education on the job alongside famous names like Todd English at the St. Regis Aspen. He then worked in well-known Aspen establishments like Dish Restaurant, Tempranillo in nearby Basalt and Casa Tua, before bringing his skills to The Little Nell. In early 2021, Oscar took on the role of Executive Chef at The Little Nell, overseeing all culinary operations alongside Culinary Director Matt Zubrod.
Oscar believes the best food comes from cooks who are feeling personally invested in the menu and spends the majority of his on the line, encouraging his team to make every dish palate perfect. He and his team have enhanced the popular menu with a few new items, such as the Cauliflower Gratin and Salmon Nicoise, and focus on featuring seasonal produce as much as possible. Outside of work Oscar still spends time in the kitchen, cooking for family and friends, and personally enjoys exploring the flavors of Southeast Asian cuisine.