Chef de Cuisine, Patrick Dunn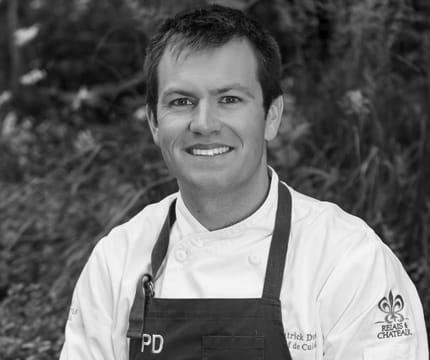 Originally from Chicago then Virginia Beach,
Patrick Dunn
has had a penchant for cooking since he was young. At first, it was simply to prepare his own meals and then he began cooking for his mother, which gradually evolved into how to create healthy dishes, utilizing whole foods. Patrick studied at the University of Iowa, graduating with a bachelor's degree in Communication Studies, followed by a year-long program at the Institute of Culinary Education in New York City. His culinary career began in New York City at Perry Street where he spent several years working his way up the ladder from line cook to chef de partie to sous-chef at the Modern American restaurant run by Chef Jean-Georges. Next, he set sail as a personal chef on a private yacht, traveling around the Caribbean and throughout the Mediterranean. From there he moved to Copenhagen for a stage at the two-Michelin-starred Noma. In late 2014, he moved to Aspen where he joined the culinary team at The Nell, working his way up to chef de cuisine. The summer 2016 menu is a product of Patrick's skills and creativity, with an emphasis on local and sustainable ingredients via his relationships with Colorado farmers. When he's not in the kitchen, Patrick enjoys spending time with his dogs, a chocolate lab and a Cavalier King Charles, and staying active. In winter, he skis; in summer, he fishes and paddle boards. He and his wife, Abby, welcomed their own sous-chef, Clay, born in the summer of 2017.