Lucas Rocca, Chef de Cuisine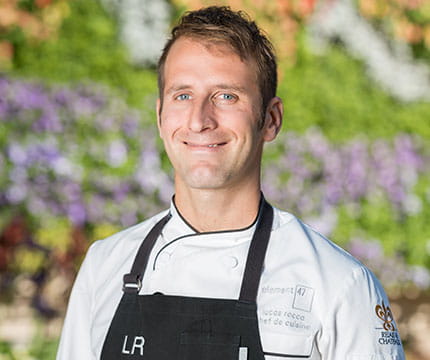 Lucas is a first generation American, born and raised in Fort Collins, Colo., by his university professor parents who originally came from Argentina. He accredits his love for cooking in large part to his grandmothers who would visit from South America for six months to a year at a time when he was growing up. "They were naturals in the kitchen" and shared their recipes and skills in making everything from empanadas and milanesas to homemade pasta and gnocchi. Lucas notes, he was "a chubby child" as a result, (which is no longer the case).
He pursued a career in cooking in Ft. Collins, and at a certain point, felt the necessity to seek different exposure and experience. He applied to 40 restaurants across the country, and staged at several, including The Nell. After just one night in the kitchen, he knew his search was over.
In the spring of 2018, Lucas was promoted to Chef de Cuisine at element 47. He enjoys how the team works together and is most excited about at the helm of the restaurant is the change of seasons and the corresponding menu change, as well as the continuing the house-made charcuterie program, the house-made pastas, the exclusive contract for Wagyu Beef with Emma Farms and The Little Nell Gardens at Rock Bottom Ranch.