Amy Andrews, Pastry Chef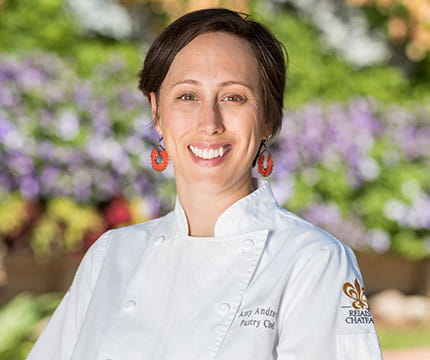 Originally from Placerville, Calif, Amy began her baking career in college while studying to be a dental hygienist. As she found herself reading cookbooks more than dental books, she decided to switch pursuits. Amy first thought she would become a wedding cake decorator and set off to travel the world to learn about different cultures and their baking and pastry styles. After her extensive travels, Amy landed back in the States working in the kitchen at Calistoga Ranch in the Napa Valley, before coming to Colorado for pastry chef positions at the Truffle Pig in Steamboat Springs, Sweet Basil in Vail and the Park Hyatt Beaver Creek Resort & Spa.
She joined The Little Nell in the spring of 2018, drawn by "the buzz" about the hotel, the reputation of the food & beverage department and the prime location of the property. She "loves the mountains and loves to make pastries." When she's away from the kitchen, Amy enjoys snowboarding, mountain biking and spending time with her young daughter, "swimming, laughing and jumping."